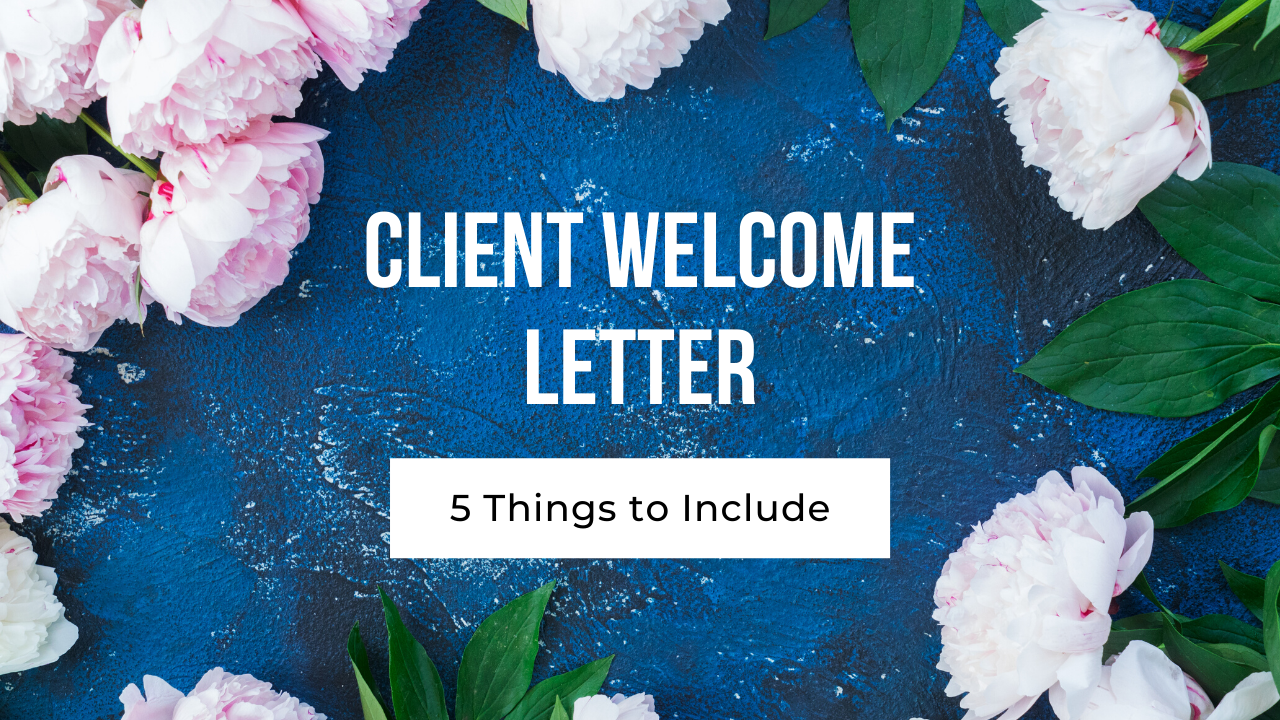 As a wedding planner or event planner, booking a new client is always an exciting and important step in growing your business. However, the way in which you welcome your new clients into your company can be just as important as the initial booking process. A well-crafted client welcome letter can leave a lasting impression and set the tone for a successful working relationship. In this blog post, we'll be diving into 5 key elements that every welcome letter for wedding planners and event planners should include to ensure that you stand out in your client's eyes.
Client Welcome Letter
From expressing your excitement to work with them, to providing important details about your company and process, to answering any potential questions or concerns your client might have, a client welcome letter is a great way to set the stage for a smooth and professional experience. We will be sharing some proven tips and best practices to help you craft the perfect welcome letter for your new clients. So whether you're a seasoned pro or just starting out in the event planning or wedding planning industry, these tips will help you to make a great first impression and to start the working relationship on the right foot.
1. Logo & Company Information
Branding your client welcome letter is crucial in creating a cohesive image for your business, and ensures that your clients easily recognize your company across various correspondence and documents.
To effectively brand your letter, make sure to include your company name, logo, and website link prominently. This makes it easy for clients to refer back to your materials and access your website for more information. Additionally, including your phone number makes it simple for clients to reach out and contact you directly.
Incorporating your brand elements consistently across all communications, not only helps to create a cohesive and professional image but also helps to establish credibility and trust. It also makes it easier for clients to recognize and remember your company in the future, which can lead to repeat business or referral opportunities.
For Example:
Beyond the Decor
www.beyondthedecoratl.com
2. Main Contact Person
It's important to outline who the main event contact is for your client, whether you're a team of event planners or a solo operator.
If you're a team-based operation, this is where you should introduce the specific Event Planner that will be assigned to their account and provide their contact information. This allows your client to have a dedicated point of contact and helps to establish a personal connection with the planner.
Even if you are a one-person operation, it's still important to let your clients know that you will be the main point of contact and responsible for their event. While it may seem obvious, it's important to provide this information to ensure that your clients have a clear understanding of the structure of your business, which in turn can help to build trust, and ensure they feel comfortable working with you.
3. Planning Process
Clients who hire event planners often have limited knowledge about the planning process, which is why it's important to provide clear information about what they can expect when working with you. Your client welcome letter is a great opportunity to do just that.
For example, it's important to communicate how often you will be in touch with the client, whether that's weekly check-ins, monthly updates or at specific milestones. This allows clients to understand your approach, and manage their own expectations accordingly. It is also important to clearly state when the planning officially starts, what are the due dates for payments and who will be responsible for managing it.
Additionally, it's important to outline the key stages of the planning process and what clients can expect during each stage. This includes timelines, deliverables and any other important information that will be necessary for them to understand the process. Providing this information upfront can help clients to feel more at ease, giving them a clear understanding of what to expect throughout the planning process.
By providing clear and detailed information in your client welcome letter, you can establish trust, demonstrate your level of professionalism and ensure that clients have a positive experience working with you.
4. Expectations & Decision Making
Every client is unique and has different needs, and it's important to understand and address those needs in order to provide excellent service. Some clients may take a more hands-on approach, while others might rely on family members for advice. Therefore, it's important to outline your expectations and services clearly in your client welcome letter. This includes, but is not limited to, response time to emails or calls, frequency of communication, and who should be referred to for final decisions.
It's also important to make it clear to clients who is responsible for making final decisions. This might be different depending on the package they've booked or their personal preferences. For example, is it appropriate to make changes to the venue based on a request from a family member or should the directive come directly from the client?
Providing this information upfront helps avoid miscommunication, misunderstandings, and can set the foundation for a smooth and productive working relationship. It is important to be as detailed and transparent as possible, so your client is aware of the level of service they can expect and how communication will work, it is also a way of avoiding any confusion and ensuring that your clients feel comfortable and satisfied.
5. Reassurance & Thank You
Your client's trust and confidence in you is demonstrated by signing the contract and hiring you for their event planning. Use this opportunity to reassure them that they have made the right decision by hiring you and that you are fully committed to creating an event that surpasses their expectations and meets their satisfaction. This can be done by highlighting your qualifications, experience, and the personalized approach you will take to ensure the success of their event.
Additionally, it's important to close your letter with a note of gratitude for their business and let them know that you are always available to address any questions or concerns they may have. Encourage them to reach out to you for any help or guidance throughout the planning process. This not only makes them feel valued, but it also gives them a sense of security knowing that you are accessible and responsive to their needs. Showing appreciation and availability instills trust and builds a strong foundation for the working relationship.
Conclusion: Client Welcome Letter
Your client welcome letter is a crucial component in your client onboarding process and is an excellent opportunity to make a great first impression. It's important to remember to include key information that your clients will need right away and to anticipate any questions or concerns they might have. By addressing these topics in your welcome letter, you can set the stage for a smooth and professional working relationship.
Remember to include details about your company and process, such as your availability, contact information, and what to expect during the planning process. Also, don't forget to express your excitement and enthusiasm to work with your new client, and make sure to convey that you are eager to help them plan the event of their dreams. Keep in mind that this document serves as an introduction, not just about your company but about yourself too, it's an opportunity to establish trust, and to demonstrate your level of professionalism and dedication. Overall, a well-crafted client welcome letter can be an essential tool for building strong and lasting relationships with your clients, so take the time to make sure it's as polished and professional as your services.