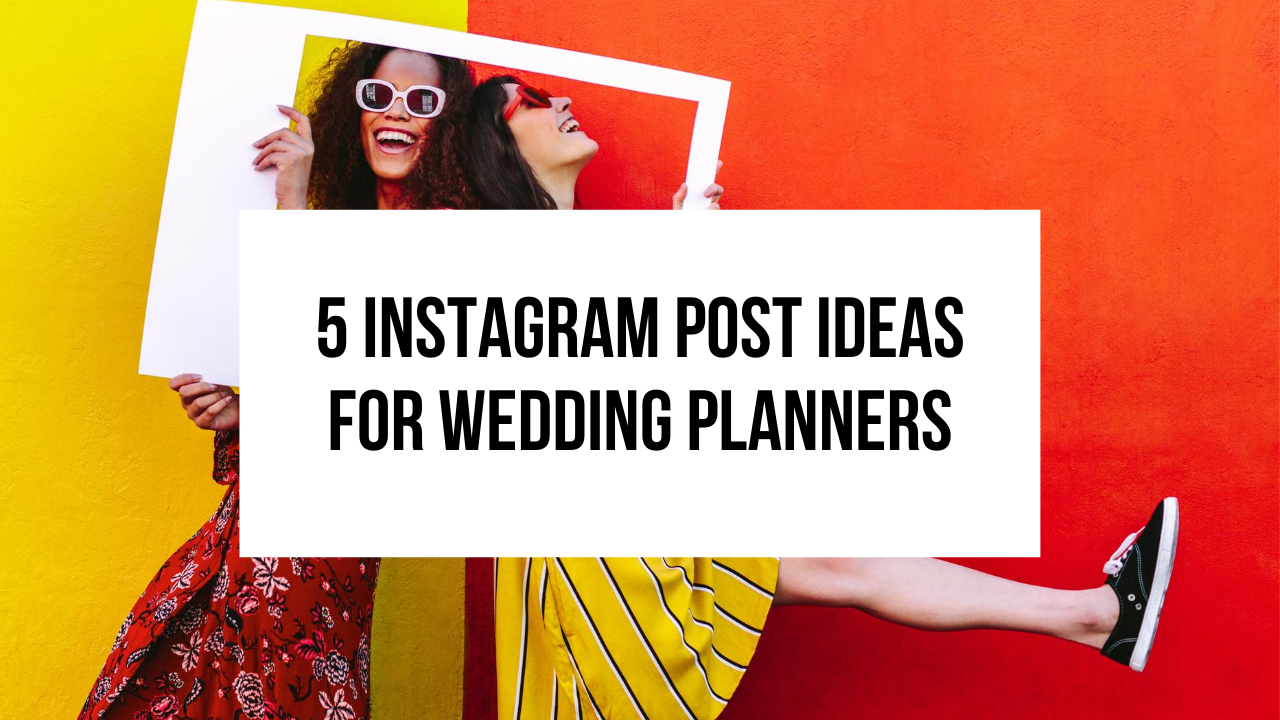 As a wedding planner, consistently posting on Instagram can be a powerful marketing tool. The platform is where a large number of millennial brides are present, actively looking for wedding inspiration and searching for vendors. Instagram provides an opportunity for you to showcase your creativity, personality, and the quality of your work, which can help you to stand out from your competition.
However, coming up with Instagram post ideas can be a challenge for many wedding planners. To help you overcome this challenge, we have brainstormed some Instagram post ideas that can help you this year.
Instagram Post Ideas
By implementing these Instagram post ideas, you can increase the engagement, reach and credibility with your potential clients and give them a better insight into your planning process and the quality of your service. This, in turn, can help you to attract new clients and grow your business.
1. Quick Tips
Solving someone's problem is the number one thing that is wanted on social media. You need to look at who your target audience is and what their main pain points are. This will help you come up with some quick tips for brides and grooms for your Instagram feed.
An example tip you could share is:
"This week's tip: Choose wedding vendors that align with your values and personality to ensure that you feel comfortable and confident throughout the planning process." #WeddingPlanningTips #WeddingPlanningAdvice #WeddingPlannerTips"
By providing valuable and actionable tips, you can position yourself as a trusted resource and help your audience to overcome the challenges of planning a wedding. Also, by sharing your own experience and advice, you can build a deeper connection with your audience and gain more trust from them.
You can also make them into a fun graphic series using Canva.
2. Behind the Scenes
Behind-the-scenes content is an excellent way to build engagement and connect with potential clients. This type of content provides a glimpse into the inner workings of your business and gives followers an opportunity to get to know you and your team on a personal level. It helps to build trust and credibility, as it demonstrates transparency and authenticity.
Here are some ideas for behind-the-scenes content that you can share on your social media channels:
Share photos of your workspace and tell followers about how you organize and run your business.
Introduce followers to your team members, by sharing their photos and information about their roles and responsibilities. This helps to create a sense of community and gives your business a face and personality.
Share your favorite team-building activities or other fun events that you participate in. This helps to humanize your brand and shows that you care about your team and the work-life balance.
Showcase your work process, for example, by sharing a before and after of one of your event setup, or sharing a live stream of an event planning meeting.
By sharing behind-the-scenes content, you can increase engagement, build your brand and connect with potential clients on a more personal level. This, in turn, can lead to more business opportunities and growth for your company.
3. Giveaways
Giveaways are a great way to generate engagement and increase traffic to your social media account, if they are executed effectively. The key is to give away something that is valuable and relevant to your target audience – in this case, brides – as this will help to ensure that you get a high number of entries and followers.
When it comes to Instagram giveaways, you can either run the giveaway independently or partner with other vendors in the wedding industry. If you choose to partner with vendors, consider creating a prize package that includes items from each vendor. This can be an effective way to reach new audiences and increase engagement.
To enter the giveaway, you can ask followers to follow each vendor, like the post, and tag a set number of friends. This helps to increase visibility and reach of the giveaway. Additionally, make sure to use an appealing graphic to accompany the post, as this can help to draw attention to the giveaway and encourage engagement.
By following these strategies you can build awareness around your brand and reward your followers with something they value. But remember to also follow the guidelines of Instagram and to make sure your giveaway is compliant with the rules and regulations of your country.
4. IG Stories
Instagram stories are a powerful tool that wedding planners should definitely be utilizing as a part of their social media strategy. According to recent studies, many people look at the stories of those they follow before they scroll through the feed, and in some cases, they might not even scroll through the feed at all.
One of the best ways to use Instagram stories is to do teaser posts. A teaser post is a short, engaging piece of content that gives a sneak peek into something more substantial. For example, you could post a beautiful image of a DIY wedding decor element in your feed, with a caption that hints at a more detailed tutorial in your stories. By doing so, you can encourage your followers to swipe up on your story to learn more, increasing engagement, and building anticipation.
Additionally, you could also use Instagram stories to share behind-the-scenes, sneak peeks, or work in-progress of your events, this will give your followers an idea of what you are working on and make them feel more involved in the process. This can increase engagement, build excitement and build trust. Overall, Instagram stories can be a great way to connect with your audience, build your brand, and drive engagement with your content.
5. IG Reels Featuring Your Favorite Wedding Products
Videos have become an incredibly powerful tool for engaging with audiences on social media. They are a more interactive and dynamic medium than a single image and they can provide more information and context in a short time frame. For wedding planners, utilizing videos is a great way to share valuable information and connect with potential clients.
A great Instagram post idea for wedding planners would be to use Instagram Reels to showcase some of your favorite products for weddings. Pick a few items that you are particularly excited about, such as unique decor, trendy floral arrangements, or innovative catering options, and create a video explaining why you think they're worth considering for a wedding. By sharing your insights and expertise, you can help brides and grooms to make informed decisions about their wedding and establish yourself as a valuable resource in the process.
You can even consider creating a series of videos featuring one item per video. This approach can increase engagement and give your audience a deeper understanding of your products and services. In short, by creating and sharing videos on Instagram you can provide value to your audience and build trust, which can ultimately help you to connect with potential clients, increase your reach and grow your business.
Conclusion: Instagram Post Ideas
When it comes to posting on Instagram as a wedding planner, it's essential to keep your audience engagement in mind. Your posts should encourage your followers to interact with your content, as well as with you. This can be achieved by sharing visually stunning and relevant images, asking questions, sharing user-generated content, and creating contests or giveaways. Additionally, by sharing behind-the-scenes content, tips and tricks, and personal anecdotes, you can give your followers a deeper look into your brand and what makes you unique.
Another important aspect of using Instagram as a wedding planner is to stay on top of current trends and features. Instagram is constantly updating its platform with new features, and it's important to stay up-to-date with them and use them to your advantage. For example, Instagram live can be used to host Q&A sessions or share real-time updates on your event planning process.
If you need some more specific tips for wedding planners, you can check out our Instagram Podcast for 10 Tips Wedding Planners should be using on Instagram to learn more about how to grow your following and how to effectively engage with your audience. With these tips in mind, you can create a consistent, engaging, and effective Instagram presence that helps you to connect with potential clients and grow your business.