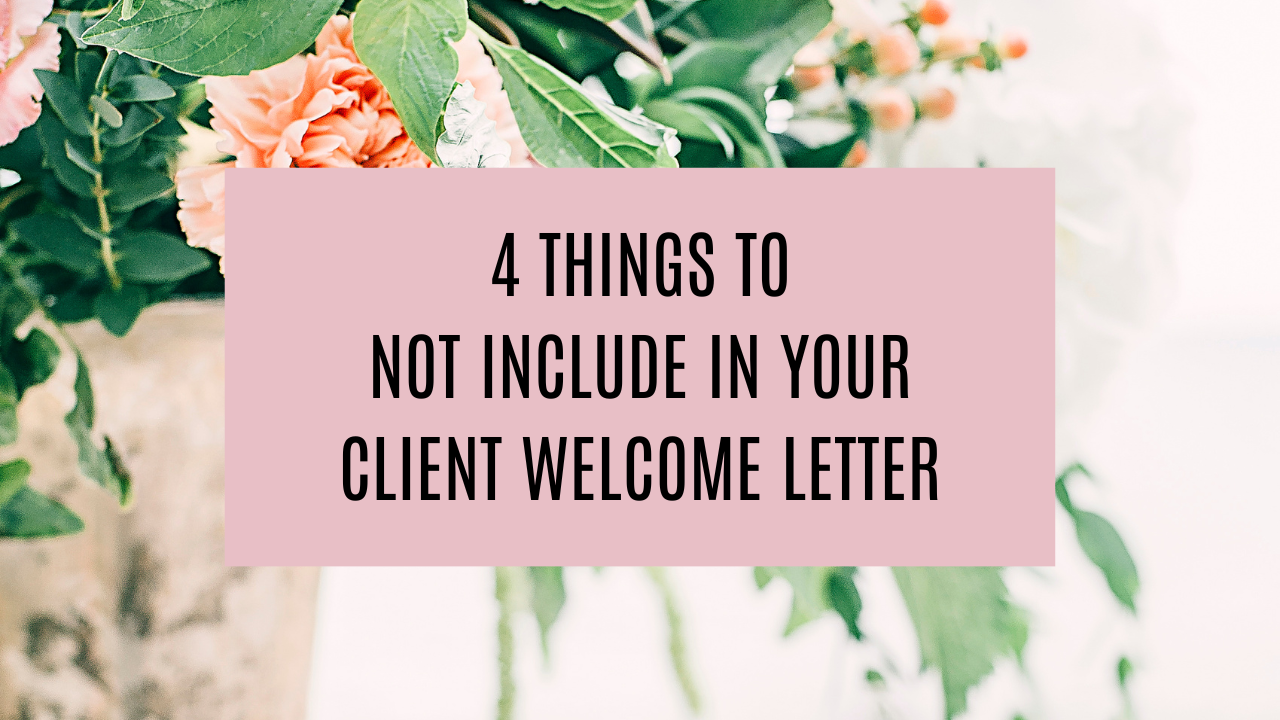 Welcoming your new clients to your business is one of the most important parts of starting a business relationship, and there's no better way to do that than with a new client welcome letter! This letter will onboard them to your business and let them know what they can expect from you moving forward! There are a number of great templates you can use to get started with your new client welcome letter, but you might be wondering what you should avoid when building your letter, as well as what's necessary! Whether it's a client pitfall to avoid or just unnecessary, we've got the 4 things you should not include in your new client welcome letter!
Impersonal Greetings or Terms
The purpose of your letter is to kick off a great relationship with your client, which means you don't want them to feel like just another number. While you can work with a template, make sure you're personalizing each one you send out. Use their names, add any applicable dates for their wedding, and any other personal touches you can think of. By keeping things personal, you'll make your new client feel important and valued to your business.
Awkward or Over the Top Phrases
Along with avoiding impersonal terms in your new client welcome letter, try to avoid phrases that don't feel natural! Phrases like, "we're honored", "esteemed client", or other wordy options can feel fake or forced. Instead, use warmer phrases, like "Thanks for choosing us!" While you want to keep things professional, using slightly more casual wording can make you seem more personable to your new couple.
Non-Branded Content or Busy Designs
When choosing the template for your new client welcome letter, you'll find yourself faced with a lot of options! Whether you use Canva or another option, be selective with this part – make sure your letter is well branded, so your client knows exactly who the letter came from. This can be a simple letterhead, or a standard design you have for other deliverables! However, avoid the pitfall of busy designs – these can be distracting and feel unprofessional to a new client. Opt for streamlined designs and minimal elements to make sure the focus is on what you have to say.
Lengthy Terms and Conditions
Policies, terms, and conditions are often included in a welcome letter. However, if you make them too lengthy or intense, it can start to scare a new client off. Instead, put the most important policies in your welcome letter, such as cancellation information, necessary payment dates, etc, and leave the rest for your contract. You want your new couple to feel welcomed, not intimidated.
By avoiding these four simple things, you'll be able to focus on the more important parts of your welcome letter – the actual welcome, thanking them for their business, and letting them know the next steps you'll take in the wedding planning process! A new client welcome letter is a simple tool that can ensure that your contract starts on the right foot and your clients know what they can expect from you. Grab your new client welcome letter & guide at our template shop.