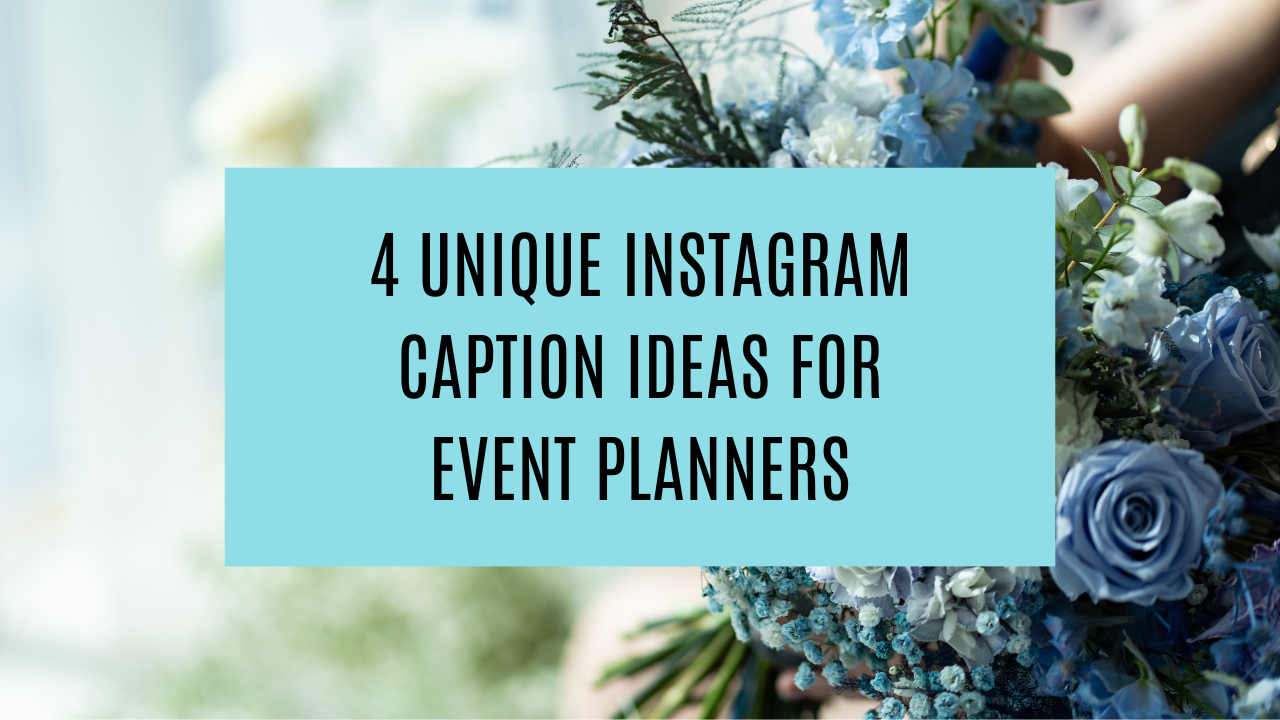 Building a strategic social media plan as an event planner can feel like a chore when you have so many other tasks to attend to. But the results of social media speak for themselves! So you've put in the work, mapped out your perfect Instagram feed, curated all your content, and now you're stuck brainstorming caption ideas. Whether you consider your Instagram feed to be a mini blog, or just quick snippets of your business, captions keep your audience engaged and interested. So if your brain already hurts from crafting captions, we've put together the top 5 Instagram caption ideas for event planners!
Humorous
Adding personality to your social media strategy through humor is a great tactic for event planners! It's easy to get caught up in the promotional and business side of things, but you don't want to forget to show the human behind the business! Adding a bit of humor to spice things up will ensure your Instagram captions appeal to a wider audience! Here are a few of our favorite funny Instagram caption ideas for event planners:
"Good morning to everyone except guests that don't RSVP on time."
"Rules for wedding planners: if it seems easy, you're doing it wrong."
"I want to live in a world where email burns calories."
Motivational
It's no surprise that many Instagram users turn to the app for motivational content to keep them feeling inspired – the visual aspect alone adds a lot of inspiration for anyone to browse through. Capitalize on this by adding some motivational or inspirational content of your own along with a beautiful graphic. You can relate it to your business, or just in reference to getting your week started on the right foot! A motivational Instagram caption works great in keeping your audience engaged with your business. Here are a few Instagram caption ideas to get you started:
"Do it with passion or not at all."
"The secret to getting ahead is getting started."
"Be so good they can't ignore you." (Steve Martin)
Vendor Shoutouts
A great way to build your community through Instagram captions is by utilizing them to talk about your favorite vendors! Pair these captions with photos of previous events, and then shout out the florist, bakery, designer, etc that you used for that event! Not only is it a great way to showcase your work, but the other businesses are more likely to share that content and expand your audience! Talk about a win-win. Try some of these Instagram caption templates for your next vendor shout out!
"Working with ____ on this birthday party was an absolute dream!"
"Wanted to send a huge shout out to ___ for all their hard work in pulling this event together with me!"
"We love working with other small businesses like ___ to bring your dream event to life!"
Informational
A great way to build your audience on Instagram and your business by word of mouth is to show your expertise in your industry! Consider the tips and tricks that make your business stand out, and sprinkle them throughout your Instagram captions – your audience will grow as they come to look at your feed as a resource during their planning processes! A few ways you can do this are with:
Vendor Round Ups
What to Know Before Hiring an Event Planner
How To's
When brainstorming Instagram caption ideas as an event planner, it's hard to go wrong! Share some inspiration, give behind the scenes details about your events, or just make your audience laugh – whatever you decide, it will go a long way in connecting with your audience and bringing more people to you and your business. Checkout our social media starter pack for wedding planners to help you get started.