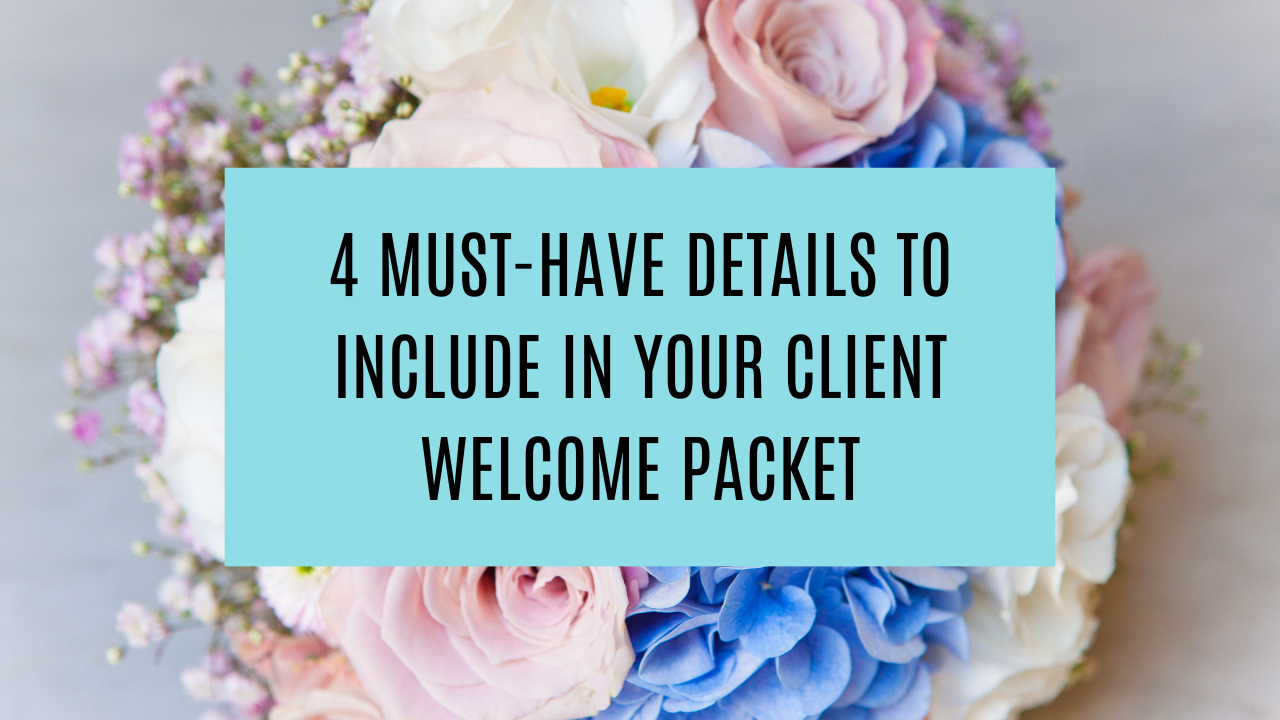 You've marketed, presented, pitched, and finally landed that client! When the excitement wears off, you might be left wondering what your next step should be to properly onboard your new client to your services. One of the first things you should be doing is sending your client(s) a thoughtful, detailed Client Welcome Packet. If you're unfamiliar, this is simply a packet to send out that outlines the services they've purchased, and all the details they'll need to get started working with you! This packet helps to clear up any questions and manage expectations upfront so you can get started on the right foot! So what should you include in your Client Welcome Packet? We've got the top 4 details you need here:
Welcome Message
While this may seem like the most simple detail to include in a welcome packet, it's not to be overlooked! Writing a thoughtful welcome message packs a powerful punch when building a relationship with your client. Use this space to thank them for choosing you for their special day, welcoming them to your services, and even offering a few fun facts about you. All of this will help them feel even more comfortable with their decision in wedding planners.
Services Outline
This is the part that will help you the most when managing the expectations of your clients. This area should provide a detailed and thorough outline or description of everything they can expect from you throughout their wedding planning journey. What will you be in charge of? When should they expect certain services to be completed? By walking them through your process early, you'll make them feel more comfortable about what to expect, and you'll know exactly what you'll need to follow through on.
Client Questionnaire
A client questionnaire is a powerful tool for any wedding planner – it allows you to acquire all the information you'll need regarding your clients' wishes, expectations, vision, and more! This is a great way to not only get to know your client better, but to also make them feel heard in the process. By including a client questionnaire in your client welcome packet, you'll have all the information you need right in one place!
Communication and Contact Information
This is an absolute must-have detail in your Client Welcome Packet. Use this space to outline exactly how you can be reached – whether you prefer text, call, or email, and what your best number is. You can also use this space to outline when you will and won't be available – this helps your client have a better understanding of how quickly they can expect to hear back from you! Another great way to use this piece is by outlining when they can expect to hear from you throughout the process. Whether you do regular check-ins or only touch base to finalize things, your clients will know exactly what to expect!
A Client Welcome Packet is a simple way to begin building a great relationship with your new clients. By setting all the expectations up front, you'll both be happier throughout the entire wedding planning process! Make it even easier on yourself by using a template like this one – simply insert your information and you have a beautifully designed Client Welcome Packet that you'll be proud to send out!