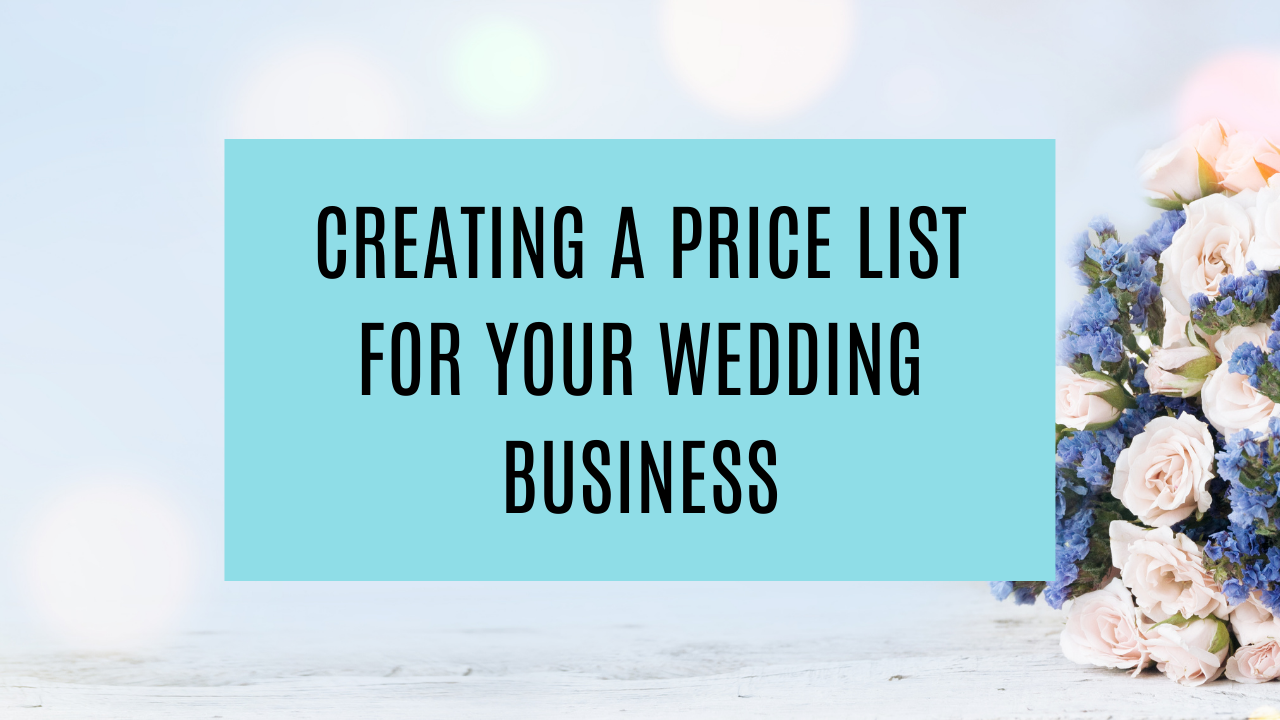 One of the most frequently asked questions for wedding planners is: what do I charge? Pricing can make a lot of people squirm, and there are a lot of opinions and thoughts out there about what wedding planning should cost. Between hearing the entrepreneurial crowd insist you charge what you're worth, and brides balking at additional costs in their budgets, it can be a daunting task to even start setting your price list. But the bottom line is that pricing a wedding planning business isn't a one size fits all process. Instead, we'll walk you through the steps of creating a price list for your wedding business that suits you and your clients.
Think Big
First thing's first: you need to sit down and calculate what you need to make in a year to make your wedding planning service a business, not a hobby. This number is likely going to seem large and overwhelming, but this is going to help you calculate how many weddings you need to work in a year! Don't forget to include the cost of expenses that keep your business running – think website, overhead, insurance, etc.
Consider Your Bandwidth
Simply put, how many weddings can you handle per year? Consider how much work you can realistically take on without sacrificing the quality of work that you want to be known for. An extra buck here or there won't make cutting corners worth it in the long run!
What Do You Offer?
Now it's time to outline your services – will you offer both day of coordination and full service, white-glove planning? What about consultation services? List your dream list of services, then narrow down the ones you feel good about.
Who Is Your Client?
The last big thing to consider is your ideal client – take into account where you live, the overall budget you'd like to work with, and the types of visions you want to be working with. This will help you not only with setting your price list but also knowing which clients will be a great fit and which ones maybe aren't a fit at all.
Setting the Price List
Now that you've outlined all the expectations and needs of your business, you can start putting together your price list for your wedding business. While there's a lot of information out there about the average cost of wedding planners it's not always so cut and dry. But 3 of the easiest ways to set your pricing is by hourly rate, flat rate, or percentage pricing. We've got the pros and cons of each.
Hourly Pricing
This can be one of the easiest pricing scales to sell – you feel that you'll be compensated for all your time, and your client can feel comfortable with paying only for the exact amount of time you work. However, understand that difficult clients may challenge you on your time spent every step of the way, or cut corners themselves to avoid using your time, which can lead to a mess for you to clean up later. This can be a great fit for pricing add-on services or partial services over a full coordination pricing system.
Flat Rate Pricing
Flat rate pricing requires a full scope of work that sets expectations for a flat price. This can put clients at ease knowing they won't spend any more than they've decided on, and outlines exactly what they can expect from you and your business. On the flip side, this can negatively impact you if their guest list or budget climbs along the way. As a wedding business, you know this is a common practice and can add unexpected workloads to your plate without additional compensation. Flat rate pricing requires you to be very specific in your contract.
Percentage Pricing
Percentage pricing can be one of the fairest ways to price your services, both for you and your clients. For example, if you charge a flat rate of $10,000 for your services, that's going to stretch a bride with a $50,000 budget a lot more than a bride with a $100,000 budget. With percentage pricing, it acts almost like a sliding scale to ensure that pricing is fair for both you and your client. Most planners charge between 10 and 18% of the full budget. However, this does require you to get specific about who you really want to work with in order to make the work worth it.
Setting your price list for your wedding business is a very personal process – it's important to make sure you feel comfortable with your pricing or your clients won't either! If you need more help trying to set your price list, check out this Pricing workbook for Event Planners which will help you outline expenses, expectations, and more! Time to make that money!