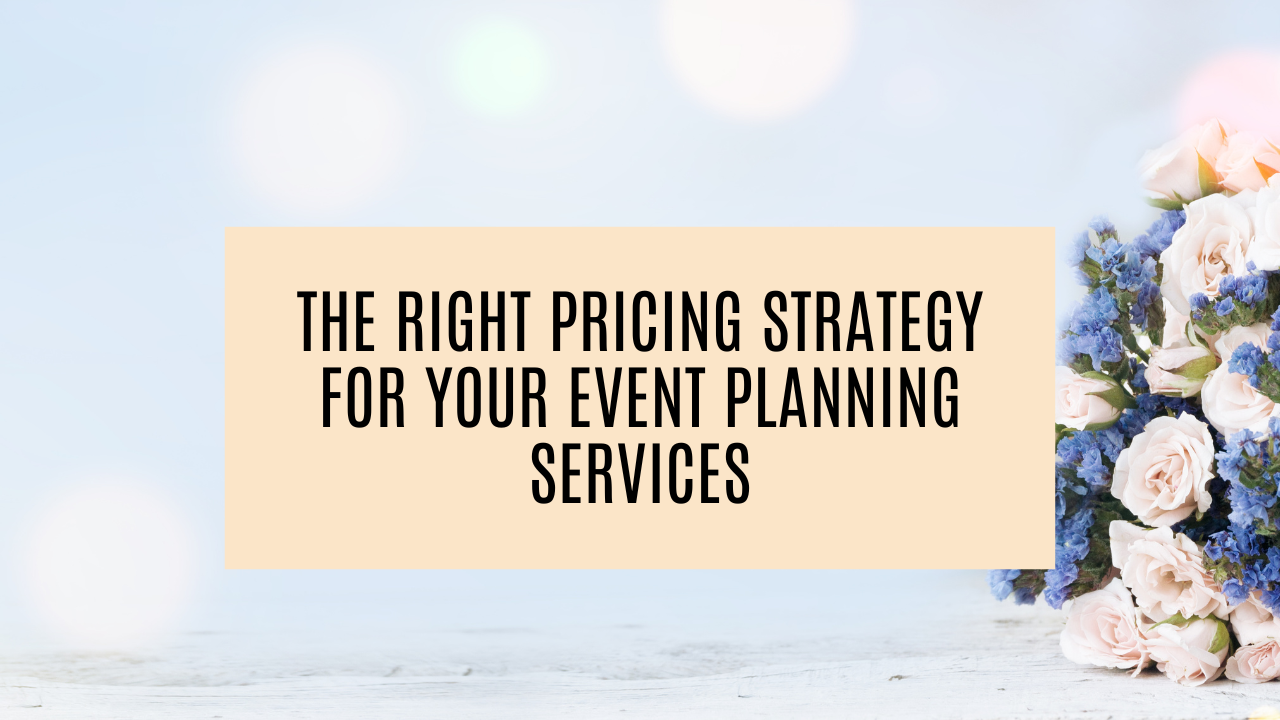 Determining the right pricing strategy for your event planning services can be a difficult task, but it is essential for the success of your business. The wrong pricing strategy can lead to undervaluing your services, leaving money on the table, or pricing yourself out of the market, resulting in a lack of clients. In this blog post, we will discuss some of the key factors to consider when determining the right pricing strategy for your event planning services.
The Right Pricing Strategy
First and foremost, it is important to understand your costs. This includes not only the cost of supplies and vendors but also the cost of your time and effort. You should also consider any overhead costs, such as rent and insurance, as well as the cost of any marketing or advertising efforts. Once you have a clear understanding of your costs, you can begin to determine your pricing.
Check out the Competition
It's also important to consider the market and your competition. Research the prices of other event planners in your area, and determine what services they are offering at those prices. This will give you a better understanding of what your target market is willing to pay, and where you should be pricing your services in relation to your competition. Be aware of the market trends and adjust your pricing accordingly, it's important to offer competitive prices to attract clients.
Type of Events
Another important factor to consider when determining your pricing strategy is the type of event you are planning. A large, extravagant wedding will likely require more time and resources than a small corporate event, and therefore should be priced accordingly. It's also important to consider the level of service you are providing. A full-service event planner will likely charge more than someone who only provides day-of coordination.
Package Options
It's also important to consider the package options. Offering different package options can be a great way to attract a wider range of clients and give them the flexibility to choose a package that fits their budget. Offer different package options with different levels of services, you can also offer a la carte services so clients can pick and choose the services they need.
Payment Structure
Another consideration is the payment structure. Some event planners require a deposit at the time of booking, with the remaining balance due closer to the event. Others require full payment upfront. Determine which payment structure works best for you and your business, and be sure to include this information in your pricing.
Transparency
Finally, it's important to be transparent and clear about your pricing. Provide a detailed breakdown of costs and services in your event proposal, and be prepared to answer any questions your clients may have. Being upfront and honest about your pricing will help build trust with your clients and reduce the likelihood of any confusion or surprises later on.
Conclusion: The right pricing strategy
In conclusion, determining the right pricing strategy for your event planning services is an essential part of running a successful business. By considering your costs, the market and competition, the type of event, package options, and payment structure, and being transparent and clear, you can find the right pricing strategy that will help your business thrive. Remember that the right pricing strategy is not only about making a profit but also about providing value to your clients and building long-term relationships.