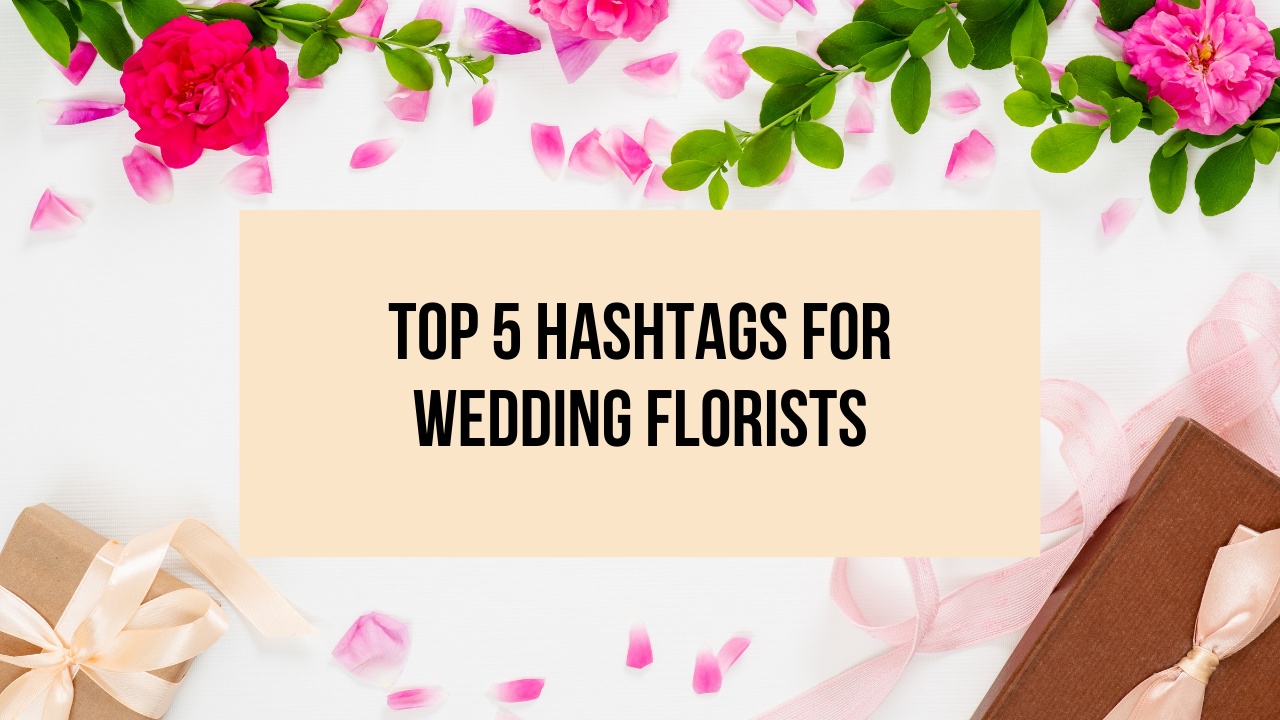 There is unlikely to be a wedding without some kind of flowers. Usually there is an abundance of flowers that grace everything from the bouquet to the tables to the groomsmen. Flowers are everywhere so a fantastic florist is a must. Florists use social media marketing as well and the hashtags that are used on Instagram and other platforms can lead the brides straight to their door. But just like anyone using hashtags, which ones the florist uses will make or break the how many people see and find the posts.
That is why we did some research and found the five of the top hashtags for wedding florists. These hashtags are searched regularly which means the appropriate use will lead to new clients, new planners that recommend your services, and new venues that will tell future brides all about what you can do.
1. #Weddingflorist
While this might seem like the obvious choice to use with your floral business, there is a reason for that. Brides, planners, and venues are not going to think to search for a hashtag that is unique. When they are searching for a wedding florist the hashtag that will get them the most specific results is going to be #weddingflorist. This is a hashtag that can be used with every post you do for your business to bring you more traffic.
2. #weddingflowers
This is another choice that seems to be too generic but it isn't. Brides want simplicity when it comes to finding vendors for their special day. This is another option that can be used with nearly every post you do. Whether you are posting centerpieces, bouquets, corsages, or even a beautiful archway, this is a hashtag that can be used to bring the business your way.
3. #weddingbouquet
This is a more specific hashtag that can't be used with every post you do. This is only for the bouquets that you have done for weddings. Brides are going to go to Instagram for inspiration when it comes to bouquets and other wedding flowers. Searching for #weddingbouquet should bring up a wealth of options, styles, and inspiration for the brides. If they like what they see then there is a good chance you are going to have business coming to you.
4. #flowerstagram
This is one of the fun hashtags for wedding florists that joins the words flower and Instagram. This is more of a general hashtag that is not just for wedding florists. However, using this hashtag will bring traffic to your business. There are people that follow this hashtag and it is becoming increasingly popular. It can also be used with nearly any type of post.
5. #weddinginspiration
This is a one stop hashtag for any kind of wedding inspiration a bride could possibly need. Brides are going to be searching this hashtag to get a general idea of what designs, florals, and dresses that they like or what is trendy this season. This is another one of the hashtags that can be attached to any post you do.
If you still think you might need some hashtag help check out hashtag vault for wedding pros.