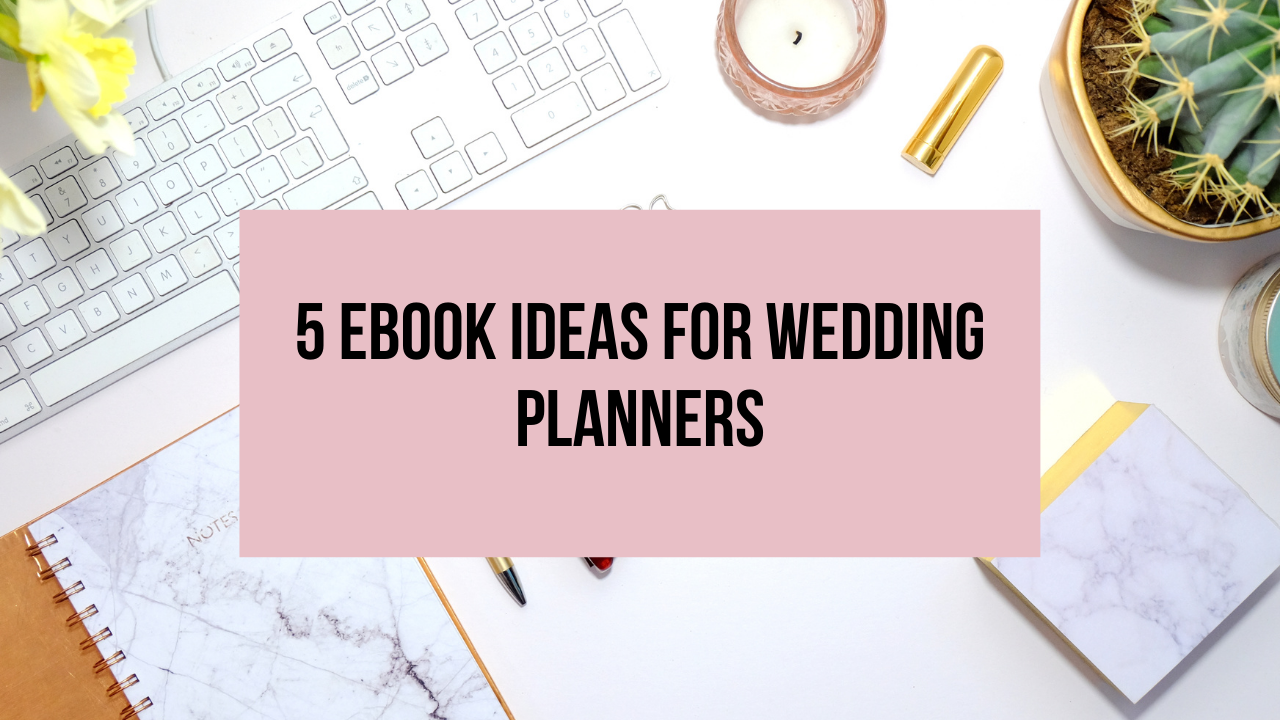 Creating eBooks that can be shared with your clients, followers on social media, or available for purchase on your business website can not only drive traffic but also increase cash flow for your wedding planning business. Lead magnets are imperative for a successful and sustainable online presence and eBooks are fantastic lead magnets.
When you create an eBook, you need to make sure that it adds value to the reader by addressing a pain point in their wedding planning journey. This could really be anything. Some brides want to DIY but don't know where to start while others are struggling to find a theme or pick a type of cake. These can all be addressed in eBooks. If you need help designing your lead magnet eBook try this template bundle.
1. Seasonal Wedding Guides
Seasonal weddings are always fun to plan and the theme can be worked around the season. But they can also be a struggle. Knowing what can work, what to plan for, and how to deal with seasonal shortages or something that is unavailable is imperative. While winter weddings are beautiful there needs to be a plan for bad weather or a vendor that can make it due to circumstances outside of their control. These are the issues and challenges that can be addressed in the ebook along with possible themes and what is perfect about a winter wedding.
This is true for all of the seasons because they all have their challenges and benefits.
2. DIY Wedding Planning Guide
DIY is trendy and so many brides want to move forward with a DIY wedding. This adds a personal touch and ensures everything is just how the bride wants it. But there are also challenges that can arise when trying to put an entire wedding together yourself. A DIY Wedding Planning Guide is a great way to bring clients to you. Offer tips, tricks, and inspiration throughout the guide to add value to the download.
3. Wedding Themes Guide
Picking a wedding theme can be tricky. Developing a guide that can walk brides through what questions to ask, what to take into consideration, and how to choose a theme they will love will have brides flocking to your website.
4. Ultimate Planning Guide
Developing an ultimate guide that has everything a bride could need from a checklist of what needs to be when, to venue tour guides and more is what brides are looking for. This can be given free to brides who book your planning services and also sold for the price of a download. How you get this guide into the hands of future brides can be done in many ways.
5. Guide to Wedding Cakes
The wedding cake is the ultimate centerpiece of the wedding. A beautiful wedding cake will leave an impression, especially if it is also delicious. It can be daunting to choose a cake design to go with your theme and cake flavors to please the crowd. A guide for choosing a wedding cake would make an attractive and useful lead magnet for brides.
If you want to try your hand at making your own ebook, Canva is a great place to start.