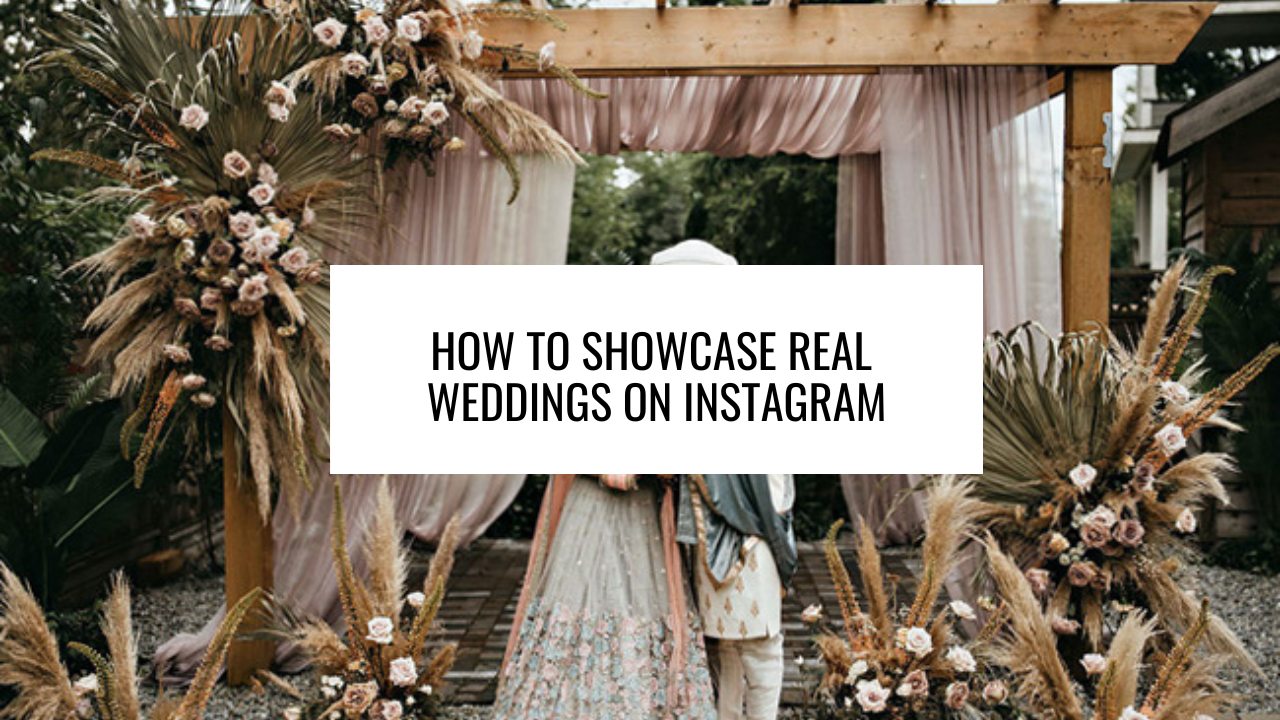 Instagram has become the go-to platform for couples looking to share their special day with the world. From breathtaking venues to beautiful dresses and heartwarming moments, real weddings on Instagram have a way of captivating our hearts. But how do you effectively showcase these memorable moments? In this blog post, we'll explore how to showcase real weddings on Instagram and create post ideas and tips to make sure your real wedding content shines on Instagram.
Start with a Bang: The Announcement
Before delving into the wedding day itself, build anticipation by making a formal announcement of your engagement. Share a heartfelt post with your engagement story and a stunning ring shot. Don't forget to include a unique hashtag that your followers can use throughout your wedding journey.
Behind-the-Scenes Preparations
Give your audience a glimpse into the months leading up to your big day. Share snapshots of dress fittings, venue selection, and tastings. These behind-the-scenes moments humanize your wedding experience and create a connection with your followers.
The Venue Reveal
Create excitement by posting a photo or series of photos showcasing your wedding venue. Whether it's a rustic barn, a beachside paradise, or a charming garden, let your followers share in your joy by revealing the place where your dreams will come true.
Bridal and Groom Portraits
Share stunning portraits of you and your partner in your wedding attire. These photos can be beautifully candid or artistically posed, but they should reflect your personalities and love for each other.
The First Look
Capture the raw emotion of your first look – that special moment when you see each other for the first time on your wedding day. These candid shots are bound to make your followers feel the love in the air.
Ceremony Highlights
Give your followers a front-row seat to your wedding ceremony by posting photos or short video clips. Share vows, ring exchanges, and any other unique rituals that make your ceremony special.
Candid Moments
Some of the most cherished wedding photos are candid shots that capture genuine emotions. Whether it's a stolen kiss, a tearful hug, or a joyful dance, these moments are perfect for Instagram.
Reception Details
Showcase the exquisite details of your wedding reception, from the table settings and floral arrangements to the cake and entertainment. These posts can serve as inspiration for future brides and grooms.
Heartfelt Captions
Accompany your posts with heartfelt captions that provide context, share your feelings, or tell a story. Authenticity and vulnerability resonate with your audience and make your posts more engaging.
The Thank-You Post
After your wedding, express gratitude to your guests, vendors, and everyone who made your day special. Create a beautiful thank-you post to show your appreciation.
Share Stories
Use Instagram Stories to provide real-time updates and sneak peeks throughout the wedding day. Stories disappear after 24 hours, creating a sense of urgency that encourages your followers to tune in.
Engage with Your Audience
Interact with your followers by responding to comments and direct messages. Share anecdotes and stories related to your wedding planning journey. Engagement builds a loyal and supportive community.
Post Consistently
Maintain a consistent posting schedule in the lead-up to your wedding and during the post-wedding phase. This keeps your audience engaged and excited about your content.
Conclusion: How to Showcase Real Weddings on Instagram: Post Ideas and Tips
Remember, your wedding is a personal and unique journey, so make sure your Instagram posts reflect your personality and style. By sharing these special moments with your followers, you can inspire others and create a lasting digital memory of your love story. Happy posting! 💍❤️📸