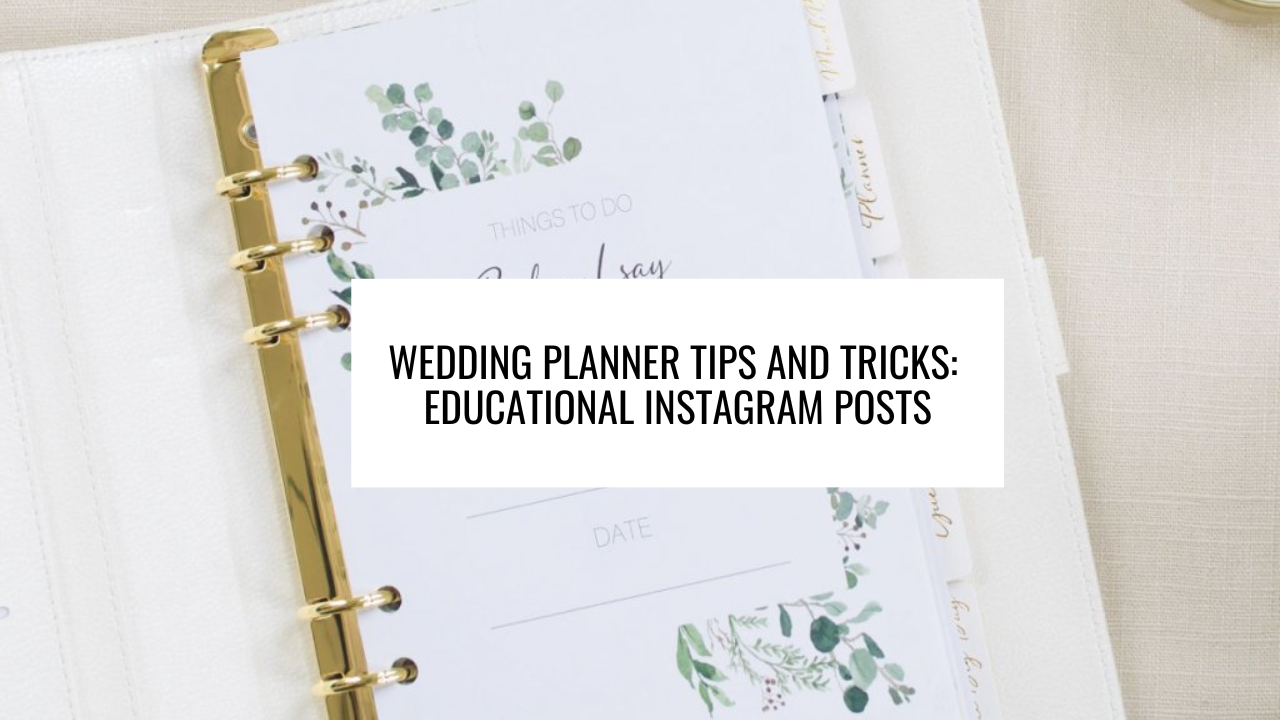 In today's digital age, social media platforms have revolutionized the way we plan, document, and share our most significant life events. When it comes to weddings, Instagram stands out as a go-to platform for brides and grooms-to-be, providing a wealth of inspiration, ideas, and advice. As a wedding planner, leveraging the power of Instagram through educational posts can be a game-changer for your business. In this blog post, we'll explore some valuable wedding planner tips and tricks to create engaging and informative Instagram content that can help you connect with your audience and boost your wedding planning business.
Understand Your Audience:
Before you dive into creating educational content, it's essential to understand your target audience. Consider the interests, preferences, and pain points of engaged couples. Are they looking for budget-saving tips, destination wedding advice, or décor inspiration? Tailor your content to address their specific needs and questions.
Content Planning:
Create a content calendar to ensure a consistent posting schedule. Plan your posts in advance, covering various aspects of wedding planning, from choosing the perfect venue to selecting the ideal color palette. Mix up your content with carousel posts, videos, and engaging captions.
Educational Graphics:
Visual content is king on Instagram. Design eye-catching graphics that convey valuable information at a glance. Use tools like Canva or Adobe Spark to create beautifully designed infographics with tips on budgeting, seating arrangements, and more.
Engaging Captions:
Your captions are an opportunity to add context and personality to your educational posts. Craft captions that tell a story, ask questions or encourage engagement. Pose a problem or challenge your audience might face and provide a solution within the caption.
Use Hashtags Wisely:
Incorporate relevant and trending hashtags to increase the discoverability of your posts. Research popular wedding-related hashtags and use a mix of broad and niche tags to reach a wider audience. Instagram allows up to 30 hashtags per post, so make the most of them.
Educational Stories:
Instagram Stories are a fantastic way to provide quick tips and tricks. Use the "Swipe Up" feature if you have more extensive resources to share, like blog posts or video tutorials.
Collaborate with Industry Experts:
Partner with fellow wedding vendors, such as florists, photographers, and caterers, to co-create educational content. Cross-promotion can help you tap into new audiences and provide valuable insights from various experts in the field.
Engage with Your Audience:
Respond to comments and direct messages promptly. Engagement fosters a sense of community and trust. Encourage your followers to ask questions or share their own wedding planning experiences.
User-Generated Content:
Encourage your clients to share their wedding planning journey on Instagram and tag your business. Repost their content on your profile, giving them credit. User-generated content serves as authentic testimonials and showcases your successful work.
Analytics and Adjustments:
Regularly analyze the performance of your educational posts using Instagram Insights. Identify which posts resonate most with your audience and adjust your content strategy accordingly.
Conclusion: Wedding Planner Tips and Tricks: Educational Instagram Posts
Instagram is a powerful tool for wedding planners to educate, inspire, and engage with couples on their journey to the big day. By understanding your audience, planning your content, and leveraging creative visuals, you can position yourself as a trusted expert in the wedding planning industry. So, start crafting those educational Instagram posts and watch your wedding planning business flourish in the digital world. Happy planning! 💍📸