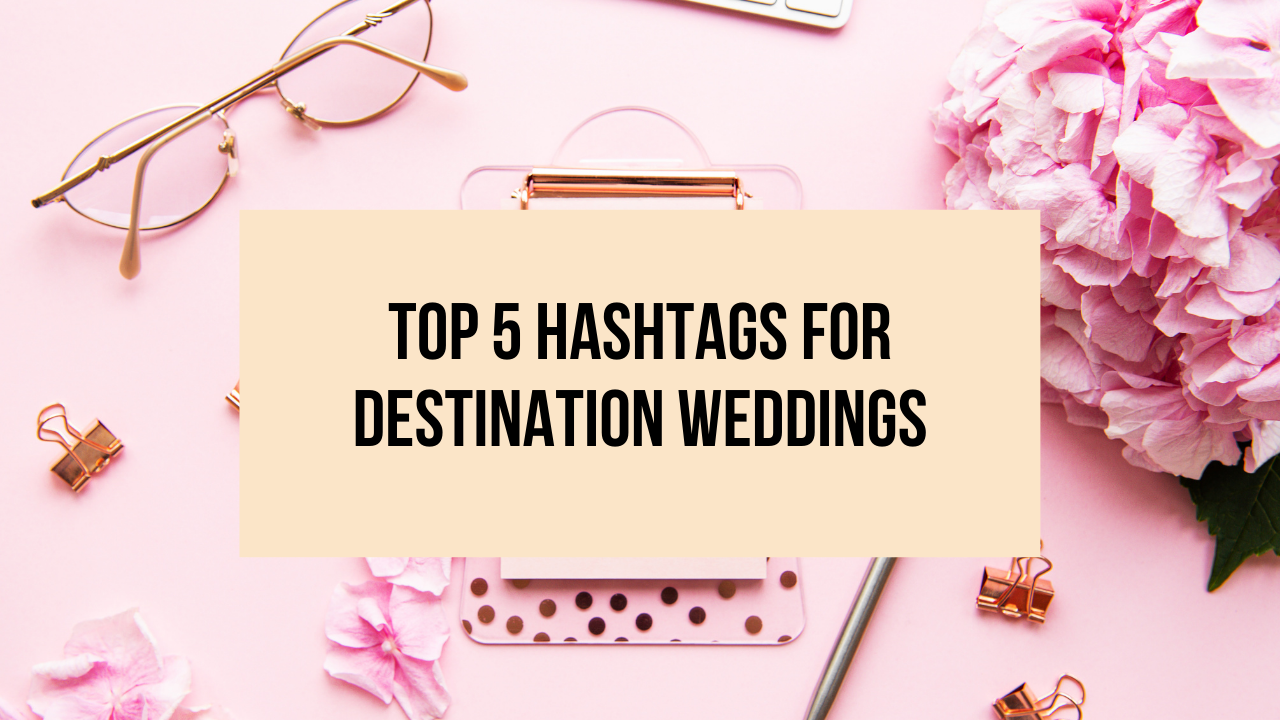 Destination weddings were on the rise before 2020 and with travel restrictions lifted, there is expected to be a boom in destination weddings again. With so many people using social media platforms as a method of spreading information, it is not surprising that brides are using it to keep people informed about their destination wedding. Choosing the right hashtags for destination weddings will help your business to stand out from the competition.
Why Have a Hashtags for Destination Weddings?
If you are a wedding planner that is experienced with planning destination weddings potential clients might not already be following you. In fact, if you're not using the best hashtags to attract destination wedding brides you might be missing out on a ton of potential clients. One of the easiest ways to tell people you can plan a destination wedding is by using hashtags on Instagram and other social media platforms.
5 Best Destination Wedding Hashtags
The destination wedding hashtags that are used by wedding planners need to be thoughtful and trending hashtags. Hashtags shouldn't be used just to be funny or add characters to the post. They are actually a powerful tool for driving traffic to your account. We have found five of the top destination wedding hashtags using best-hashtags.com. Hashtag trending ebbs and flows so it is a good idea to check often to make sure you are still using popular hashtags.
1. #Destinationweddings
This one is an obvious choice but there are two variations of this same hashtag. The other one is on our list as well. This is the hashtag that brides use to find inspiration for their own destination wedding. When they search they will find top posts that use this hashtag and if they follow the tag then the posts will show up in their feed. This is a great hashtag to use to get more destination wedding business.
2. #Wedding
This is a rather generic hashtag but is used often with #destinationweddings. This goes hand in hand with the previous option. Some brides are just beginning to look at wedding ideas so they simply search for "wedding" using it as a hashtag. If you have this tag with the destination weddings hashtag then you could drive some traffic to your page and your business.
3. #Weddinginspiration
Another versatile hashtag that is used with #destinationweddings is #weddinginspiration. Brides want to be inspired and that is what makes this tag so trendy. Wedding inspiration is searched by brides everywhere so using it is going to bring your business followers and possibly clients.
4. #Destinationwedding
This is a variation of the first hashtag on our list. This is a tag that you would use when you post pictures of plans that you made for a specific destination wedding. This tag can be used with #destinationweddings as well to cover all of the search results.
5. #Destinationweddingplanner
This hashtag will be your go-to as a destination wedding planner. Using #destinationweddingplanner will leave no doubt that you are, in fact, able to plan a destination wedding.
If you need extra help with hashtag inspiration then grab a copy of our hashtag vault for wedding planners for a comprehensive list.