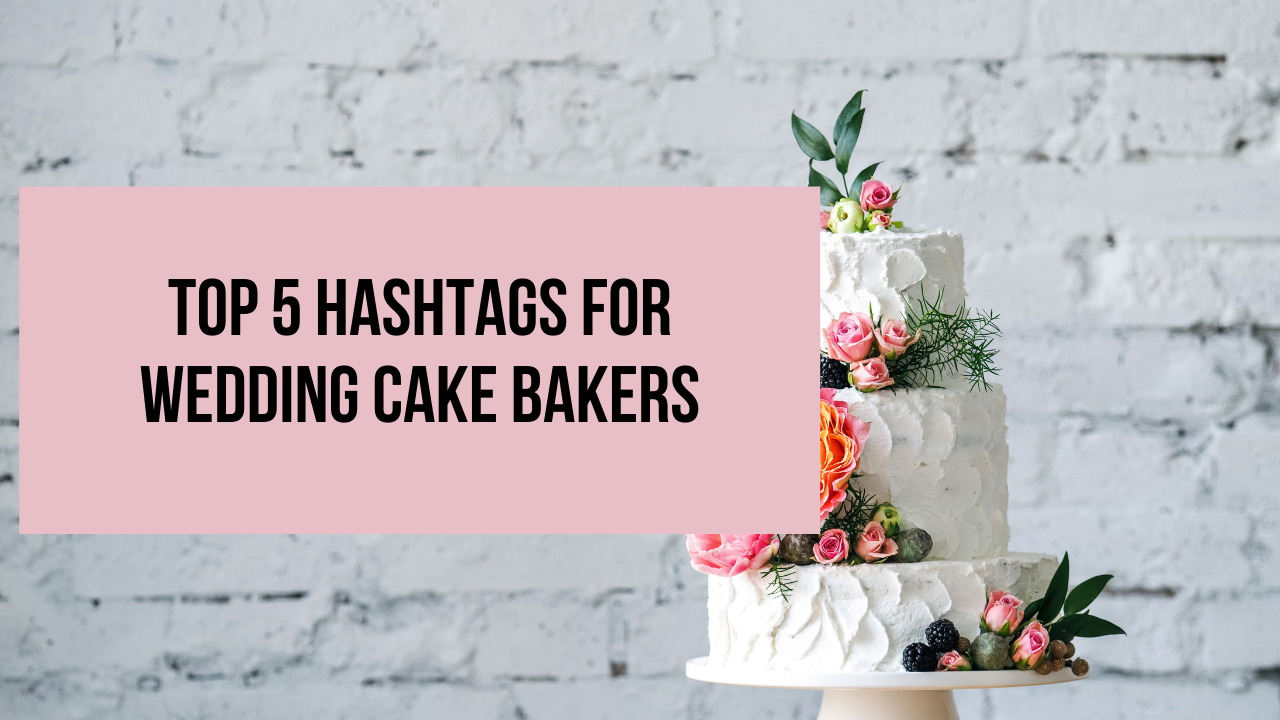 The competition among wedding cake bakers can be fierce, especially in a saturated market and online. If you have been on Instagram lately then you will see hashtags everywhere. Some people use them for humor but when it comes to business, the hashtags have to serve a purpose. Most importantly, they should help you find potential clients.
Choosing the best hashtags for your wedding cake business can seem tedious but there are some tips to find the top hashtags that you can use to drive more traffic to your page. It's also important to understand why social media and hashtags are important for your online presence. 
Why Social Media is Important
If the 2020 pandemic taught us anything it's the importance of having an online presence. If you have a wedding cake business but no social media presence, or an outdated and inconsistent presence, then your business could be missing out on tons of potential clients. Social media is where people look for recommendations for services like wedding cakes. Word of mouth isn't enough anymore. 
Why You Need Hashtags
While the algorithms of the various social media platforms can be overwhelming and confusing, if you don't use hashtags the correct way then you won't get the traffic you need to grow your business online. 
Wedding cake bakers are everywhere so you need to take the opportunity to use hashtags and set yourself apart and get found. Include hashtags with beautiful photos of your cakes, or DIY tutorials and this will help to catch the eye of brides to be. 
Top 5 Hashtags for Wedding Cake Bakers
There are some hashtags that are better than others. If you want to get the most out of each and every post, you need to pair your content with the appropriate high ranking hashtags. There are ways to find out what these hashtags are. One of the ways you can do this is by searching wedding cake hashtags. Find a trending post and see what hashtags they are using. You can also search for different cake hashtags and see what comes up. This is an organic way to see what is going on in the world of hashtags. 
Another way is to use a website called best-hashtags.com to find out what hashtags are best for certain words or phrases. That is how we found the top 5 hashtags for wedding cake bakers. We simply searched wedding cake bakers and they gave a list of the best and second-best hashtags for this phrase. You can see the top 5 below. 
The best practice is to do a search weekly and to check on the most popular hashtags of that week. There is nothing constant about social media so keeping up with the change is important.
#weddingcake
#wedding
#cake
#weddingday
#cakedecoration
If you have a small account with less than 1000 followers we recommend using hashtags below 250,000 in volume. Mastering hashtags and social media isn't easy and it is constantly changing. For some tips on how to win on social media check out this podcast to help you get started and beat the algorithm. This is a great listen for your morning commute so what are you waiting for? Let's conquer the hashtags.