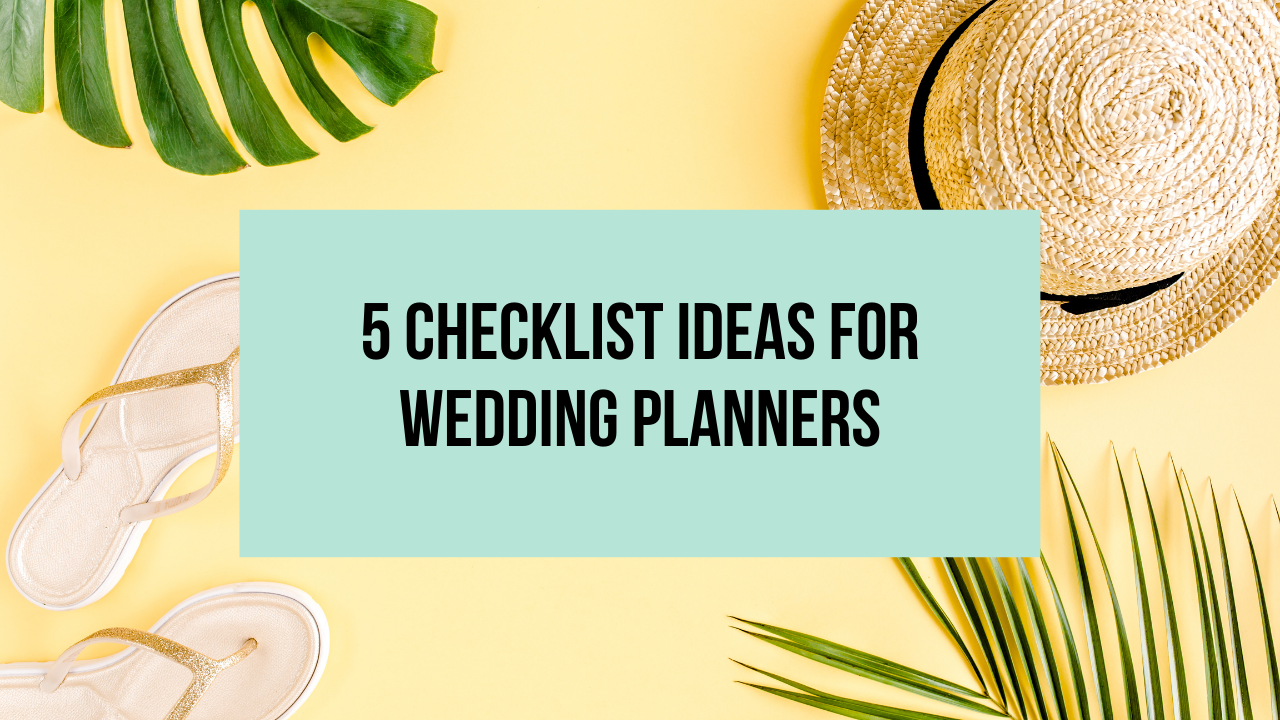 Planning a wedding is a monumental task. As a wedding planner, you might be organized and great at what you, but your client might be planning a wedding for the first time. They might need not only your guidance but tools to help them stay on task. This includes checklists, calendars, and timelines for what to expect. Keeping the planning going like a well-oiled machine is something that can't be forgotten. We want to help you with the organization part of it by giving you five checklist ideas that you might find useful to share with your wedding clients.
These will help your wedding clients to have a clear picture of when things need to be done. This will help take the mystery and question out of the planning process. And we all know that an informed bride is a calm bride. If you want a little bit of help designing your checklists this lead magnet bundle can get you started on the right foot.
1.Wedding Decor Checklist
Decorations for the wedding can get out of hand quickly. It is also easy to forget what has been done, purchased or decided on. This can result in time and money wasted on duplicating completed parts. Having a specific checklist to guide the process and keep everything in order will help the decorating process. Not to mention the budget and the sanity of the bride and wedding planner.
2.Wedding Venue Tour Checklist
A wedding venue tour checklist is a very specific checklist to have. But it will help with the process of choosing a venue. Keeping track of what the bride likes and dislikes about each venue will be a great way to narrow down the options. You can create a great wedding venue tour checklist on Canva.
3.Timelines
The most popular list among wedding planners and brides alike is timelines. These are checklists that tell you what needs to be done each month as the wedding approaches. It is easy to forget something as time slips away but this type of checklist helps prevent that from happening.
4.Budget/Financial Checklist
Budgeting and finance are important to the wedding planning process. Being able to track who has been paid and where the budget is will keep everything on track financially. It is easy to go over budget when planning a wedding. The financial side is overwhelming but a well put together checklist can help you stay on track.
You can also use a program such as Canva to quickly create a timeline for your next wedding.
5.Customizable Checklist
A customizable checklist is a versatile way to make sure every couple gets what they need. Having a template that can be changed for each client will give you a starting point with each checklist rather than starting from scratch. Since every wedding is different, one couple might need all of the checklists while another couple might need a very basic timeline checklist.
We love Canva because it is user friendly and beautiful. They make it easy to create checklist templates or any type of checklist you need.