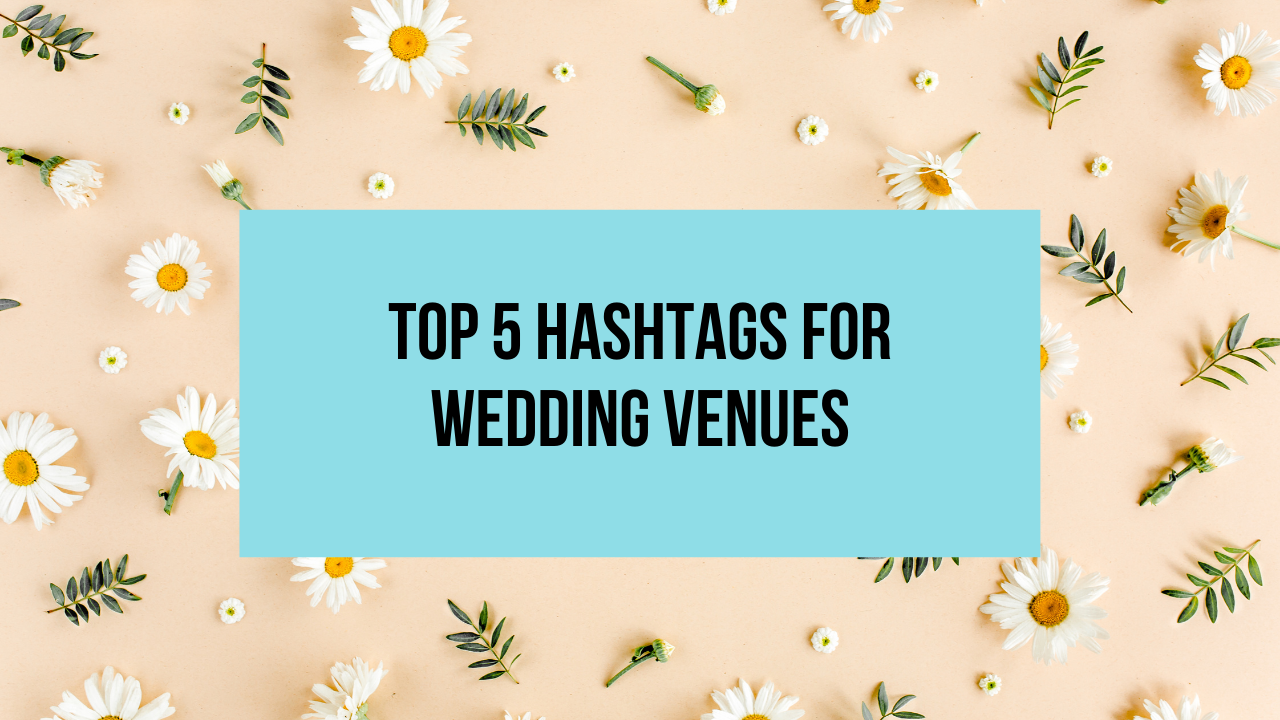 The world of social media is not something that you can forget about when you are in the wedding business. Even wedding venues need to be able to utilize social media to increase their bookings. One of the ways to make social media work for your wedding venue is by using hashtags.
If you are an avid Instagram user then you know what a hashtag is and you might have a working knowledge of how to use them to benefit your venue. We wanted to provide you with the top five hashtags for wedding venues that should be included as a part of your social media strategy. But we also want to some tips and tricks on how to choose your hashtags. If you need a little more help check out this social media starter bundle.
Why Hashtags Are Important for Wedding Venues
Hashtags are important because they help your target audience find you in the sea of social media posts. IG users will search a certain hashtag or follow hashtags in their feed. If you want to be found and drive traffic as a wedding venue then you need to use hashtags correctly. While you may see posts that have a ton of hashtags, this isn't always the best practice. But we will talk more about this in a later section.
How to Choose Wedding Venue Hashtags
You may wonder how to choose the best hashtags for your wedding venue social media posts. There are sites like best-hashtags.com or hashtagifyme that will help you find trending hashtags or create your own. Another great way to choose your hashtags is to follow your competitors and research their strategy. Find other wedding venues that have a large number of followers and see what hashtags they currently use.
It is important to not use every hashtag available. While it might seem like a good idea to do this, it will not work well in the long run. Make sure that the hashtags you use work well with the post and are going after the target audience.
Top 5 Wedding Venue Hashtags
We did a search on best-hashtags.com for the best hashtags for wedding venues. This is a great site to use if you want to find out what is trending on the different social media platforms. What is being searched and followed can change often so make sure you are keeping up with the trends. The following are the current top five hashtags for wedding venues. You can use all of them or just choose what works best for a certain post.
#[yourcity]Weddingvenue
#shesaidyes
#stylemeprettyweddings
#soontobemarried
#soontobemrs
If you're looking for a complete list of hashtags for your wedding venue, also check out our Hashtag List for Wedding Venues HERE.
Conclusion- Wedding Venues Hashtags
When it comes to social media success with hashtags it is best to not reinvent the wheel. While we don't recommend copying other wedding venues' posts, try using the hashtags that you notice are trending on their account. Using relevant hashtags with a low volume (under 250K) will help you stand out on social media and increase your chances of getting found by potential clients.
Also Check Out our Interview with Popular Event Venue, The B Suite: