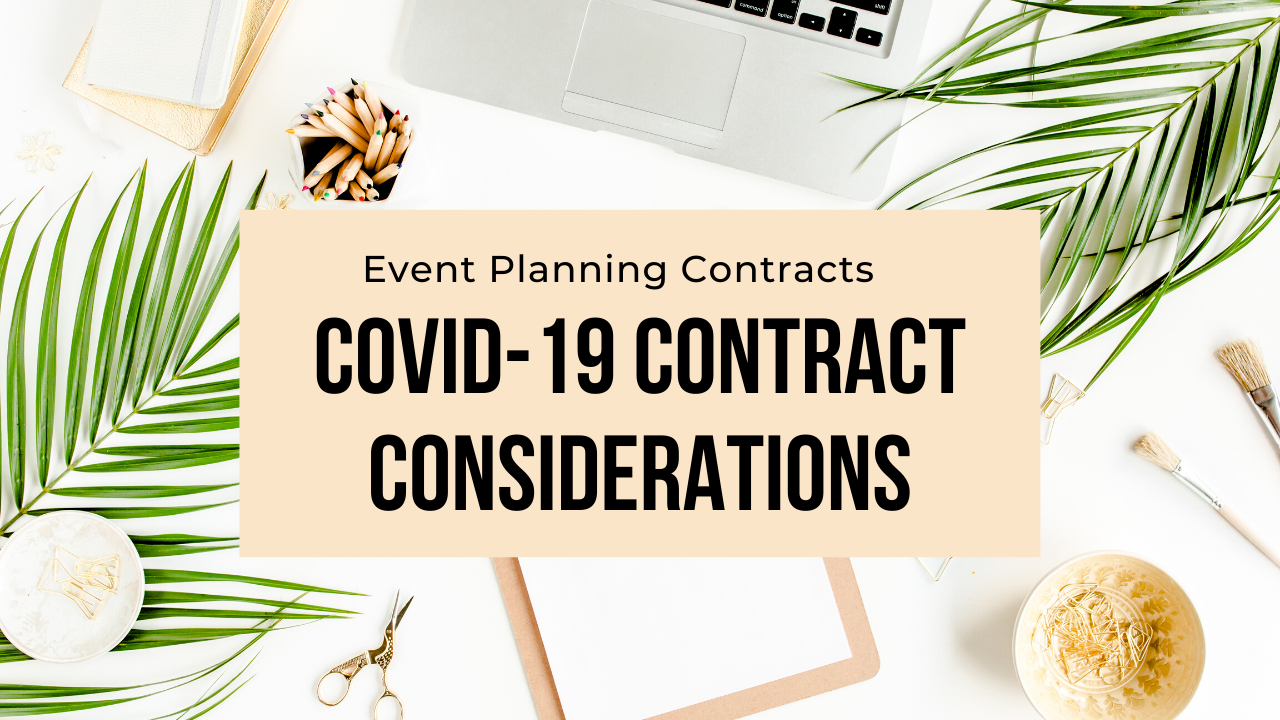 There are some things that should be included or revised in your event planning contract after Covid-19. While this is not a comprehensive list it is a great way to get started and think through how to change your contract and negotiate with vendors or venues. 
Global Pandemics are not something that we typically plan for, no matter what business you are in.  However, with these uncertain times, there have been many events and weddings that have been postponed or canceled without the client or planner being fully protected.  So how do you make sure that everyone is protected as much as possible after Covid-19?
If you aren't sure how to even start an event contract post Covid-19, check out these templates. 
1. Comprehensive Force Majeure Clause
Force Majeure is a clause that really should already be in every event planning contract. This clause protects the planner from things that are out of their control. Think natural disaster. However, since catastrophic events rarely come into play, the wording may not be strong or the clause may be completely omitted.
Neither of these scenarios is something that we suggest. In fact, not only should you have this clause but you need to improve it now that the world is experiencing a global pandemic. This clause should now include mandatory stay-at-home orders, clients getting sick, or venues shutting down.
There is another clause we are going to talk about later that specifically addresses venues but you can't be too safe.
2. Pay Attention to Your Wording
The wording is crucial to any event planning contract but now it is more important than ever. Typically it is good to be specific or to not pay attention to certain aspects of language but now wording could be the one thing that protects you when things go sideways.
For example, in a Force Majeure clause, it is common to see the phrase "anything that will cause harm" but that isn't the best wording when dealing with a global pandemic. Because things are uncertain there should be words such as "may" used rather than "will."
The wording of a contract should be in favor of your event planning business and your client. You should both be protected in this situation but you need to focus more on keeping your business from failing because of Covid-19 and poorly worded contracts.
3. Flexible Cancellation or Rescheduling Policy
Flexibility during a time like this is something that can't be overlooked. When things are changing day to day it seems impossible to plan anything. But with the suggestions, we are making along with a flexible cancellation and rescheduling policy you can continue to plan events and weddings.
Keep in mind that these can't be too flexible. There is a point at which it will harm your business. It is wise to look at your policies and see how close to the date a cancellation can be as well as specific deposit and refund policies. It will also work in your favor to allow for rescheduling and rolling over as much of the already spent money as possible to the new date.
There will be loss on your end that you may need to pass to the client so make sure there is a provision in the contract for that. For example, you may lose the catering deposit. If the event is rescheduled you will have to rebook a caterer and put a new deposit down. That needs to be passed to the client.
4. Facility Unavailability Clause 
There are so many moving parts in event planning. Your event may not get canceled but do you have a provision in your contract in case the facility closes due to Covid-19? Unfortunately, that is something that needs to be on the radar these days.
When you are working on a contract with a facility and possibly a hotel that will be used for your event there needs to be a clause that protects you in case they close. If the venue happens to close down due to the pandemic make sure there is a clause that also allows you to cancel the hotel rooms that would be used.
5. Final Thoughts on Covid-19 Contracts
The CDC does have some guidelines and suggestions for event planning for a time of the global pandemic. These are just suggestions but they can help you think through how to protect guests and staff members while still holding weddings and events.