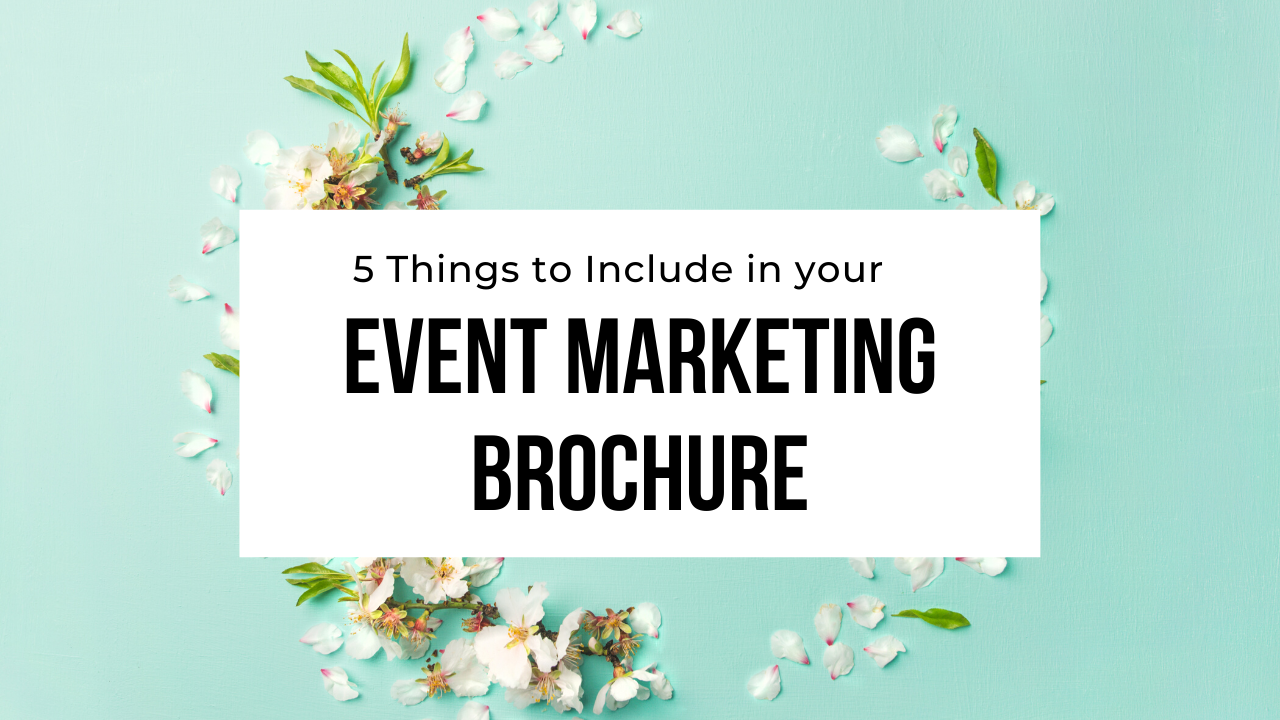 Marketing is something that you can't forget about when you are trying to start your event planning business. But poor or incomplete marketing is worse than no marketing at all. When you are making your event planning marketing brochure to advertise your business there are some essential things to include.
I want to help you learn what to include in your marketing brochure in order to make your efforts profitable. There are five things that I think are the most important aspects to be included. If you don't forget to include these items then you will be well on your way to making a successful brochure.
But before we dive in, if you need an eye-catching marketing brochure template, check out this Template to get you started.
There are things that, if forgotten, will sabotage your marketing efforts. Everything about your brochure needs to be eye-catching, succinct, and informative without overwhelming the potential client. So what are the must-haves for an amazing marketing brochure?
1. Front Cover
The front cover needs to be eye-catching and have some information on it. A beautiful picture that is relevant to your business, a headline or tagline that will tell the reader what you do, and a logo will be great on a front cover. This is the first thing they will see about your company and it needs to be perfect.
There are a couple of ways to do this but if you want to try your hand at designing it yourself then Canva is a great place to start. They have free designs or premium design options depending on what you want. You can also have the product printed through Canva.
2. Three Methods of Contact & Company Name
You definitely want potential clients to be able to contact you in whatever way they are most comfortable with. Providing them with three different methods with which to contact you is important. Your phone number, business email, and your website are important pieces of information that will give people multiple avenues to contact you or check out your business. It is also important to include your company name. This may seem really self-explanatory but when you are working on something like a brochure, it is easy to forget the simple things.
3. Logo & Tagline
A great logo and tagline for your event business will be just the thing to catch someone's eye. You can design logos online that fit your brand or you can hire a freelance designer on a platform such as Fiverr to design your logo. It is up to you just make sure it fits your business and tagline.
4. Succinct Message
Brochures are not meant to be wordy or overwhelming. They are meant to give potential clients just enough information to let them know that you are able to meet the need they have. This is your opportunity to include past sample events that would be applicable to your clients and a brief description of something notable about the event to help win over your clients. This will give them the confidence to call you, ask you more questions, and possibly set up a meeting.
5. Call to Action
If you don't provide a call to action then you may not get any business from your brochures. Incentives are important to get people to take the next step. Offering a free consultation or some kind of extra service for booking with you will be a great way to give those interested an extra push.