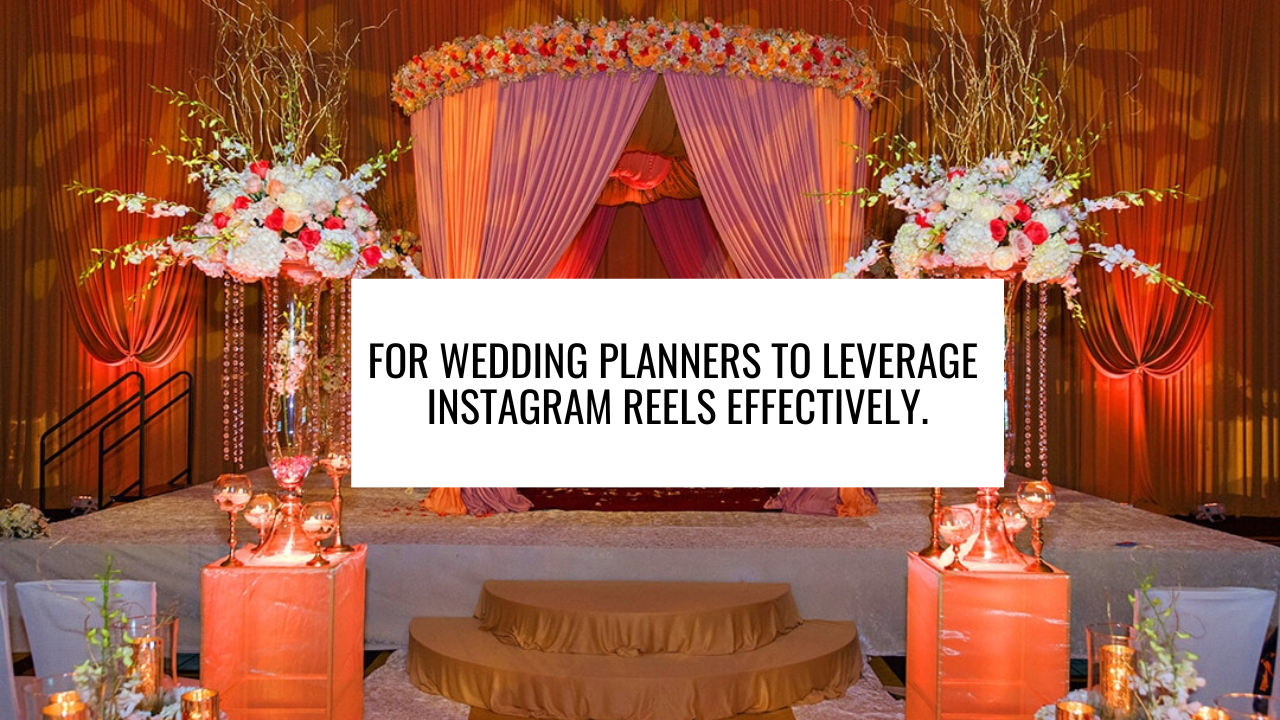 In the age of digital storytelling, Instagram Reels has emerged as a powerful tool for wedding planners to showcase their creativity, engage with potential clients, and establish a strong online presence. With its short-form video format, Instagram Reels provides a unique opportunity to capture the essence of your wedding planning business and connect with couples in a fun and authentic way. In this blog post, we'll explore Instagram reels for wedding planners and some creative ideas to leverage Instagram Reels effectively.
Behind-the-Scenes Sneak Peeks
Give your followers an exclusive look into the behind-the-scenes action of wedding planning. Share snippets of venue visits, vendor meetings, and décor setup. Highlight the attention to detail that goes into creating a dream wedding. By showcasing your dedication and expertise, you'll build trust with potential clients.
Trendy Wedding Décor Showcases
Stay updated with the latest wedding décor trends and use Instagram Reels to display them. Create short videos featuring popular color schemes, table settings, and floral arrangements. Offer styling tips and ideas to inspire soon-to-be-married couples in their wedding planning journey.
Client Testimonials
Let your satisfied clients do the talking! Create Reels that feature heartfelt testimonials from couples you've worked with. This not only builds credibility but also demonstrates your commitment to creating unforgettable wedding experiences.
Countdown to the Big Day
Create anticipation by counting down to a wedding you're planning. Share short daily or weekly updates, showcasing different aspects of the preparation process. Encourage engagement by asking followers to guess the upcoming wedding's theme or special touches.
Wedding Venue Spotlights
Take your followers on a virtual tour of various wedding venues. Highlight the unique features and ambiance of each location. This can help couples in their decision-making process and position them as knowledgeable experts in the field.
Expert Tips and Advice
Share your wedding planning wisdom through quick, informative Reels. Offer tips on budgeting, timeline management, and vendor selection. Providing valuable content will not only attract engaged couples but also establish you as an authority in the wedding planning industry.
DIY Wedding Projects
Showcase your creativity by sharing DIY wedding projects that couples can try themselves. From handmade invitations to personalized favors, these Reels can serve as a source of inspiration while emphasizing your expertise.
Engage in Trends and Challenges
Stay current with Instagram trends and challenges. Participate in popular challenges like #WeddingDanceChallenge or create your own wedding-themed challenge. These activities can boost your visibility and engagement.
Love Stories and Proposal Reenactments
Share heartwarming love stories or recreate memorable proposals you've been a part of. These emotional Reels can tug at the heartstrings of your audience and remind them of the magic you bring to weddings.
Q&A Sessions
Host Q&A sessions where you answer common wedding planning questions from your followers. This interactive approach allows you to directly engage with potential clients and establish yourself as a helpful resource.
Conclusion: Instagram Reels for Wedding Planners
Instagram Reels offers wedding planners a dynamic platform to showcase their expertise, creativity, and passion for crafting beautiful weddings. By implementing these fun and creative ideas, you can attract engaged couples, build trust, and grow your wedding planning business in the digital age. So, grab your camera, let your creativity flow, and start creating captivating Reels that will leave a lasting impression on both your current and future clients. Happy Reeling!