Instagram is one of the best visually appealing social media platforms for event planners.  While images seem to be what matters most on IG, this is not all that is important.  Believe it or not, Instagram captions matter.  Knowing how to write a caption that keeps users reading is an art.
You might be overwhelmed or wonder how to make catchy Instagram captions for your wedding planning business.  Well, we can help. We have gathered some great tips to keep in mind as you work through how to write amazing Instagram captions.  But if you need some extra help also check out these 100 pre-written Instagram captions for wedding planners. 
1. Don't Be too Hasty
Try not to rush the process of writing your Instagram caption.  If you are inspired and it just comes to you, great.  However, that won't always happen.  There is nothing wrong with writing several drafts of a caption until you get the right one. Your audience can tell when a caption was not thought through because it will not speak to them and bring very little engagement to your post.
2. The First Line is Everything
If you are familiar with Instagram then you know that you don't see the entire caption unless you click "more."  Users only see the first 125 characters of the caption.  Those characters need to give valuable information that will catch the attention of those scrolling and intrigue them enough to click that "more" option. 
That is why you need to put the most important, scroll stopping information first. Think of this area as your clickbait, and believe me that's not a bad thing.
Putting photo credits or hashtags first will work against you.  For example, a good wedding planner caption might be "Don't rely on Pinterest to plan your wedding, here's why…"  This would be a good start because it's witty, creates intrigue, and pulls your audience in to learn what they might be doing wrong and how they can fix it.
You can add to it from there but anyone looking for a wedding planner or currently using Pinterest to plan their wedding will likely stop and click "more."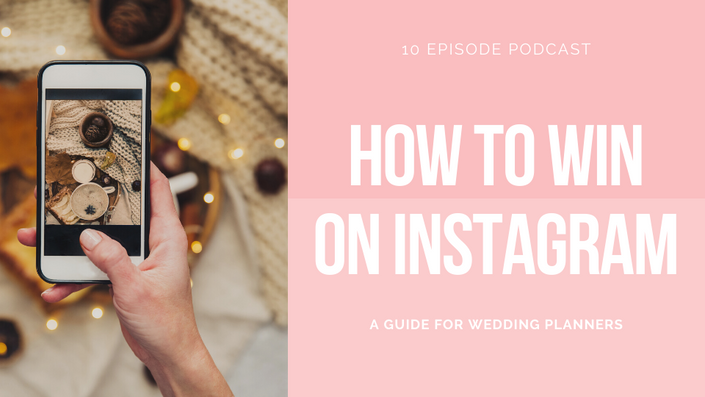 3. Write Like a Person
No one wants to read a wedding planner caption that sounds like it was written by a machine. You need to write like a person if you want to produce a catchy caption. I was once told to "write it as you would say it." Start there. You may need to edit or refine the caption but writing the first caption how you speak naturally will give you a good starting point.
4. Structure Matters
Instagram is made for mobile viewing.  That means large blocks of writing will be hard to read and won't be attractive.  You need to find ways to break up the text if you are going to write a long caption.  Keep in mind that long captions are not as necessary as witty, eye-catching, information filled captions. 

The captions you write need to be structured, valuable, and catchy. 
5. Ask a Question
Questions are a great way to stop users from scrolling.  Questions are essentially a call to action.  Your captions for your wedding planning business should often have a call to action because you're on Instagram to share your work and get hired.  However, the point is to encourage engagement.  Telling the audience what you want them to do is the best way to get it. 
A post with a caption like "Outdoor weddings are fun and beautiful.  Would you have your wedding outside?" will encourage natural engagement, rather than one without the question. 
6. Use the Bio-Link
If you have not been pointing users and followers to your bio-link then it is time to start.  Giving part of a blog post or referencing your website in a natural way and then saying "click the link in our bio for the full scoop" or something like that will help you drive more traffic and engagement.  
We are sure you have seen this used on your IG feed. This is a clever way to get people to your website or blog so they can engage more with your business.
One of the biggest "insta crimes" wedding planners commit when sharing information off the platform is not telling clients where to click, or tell them to click to read something without explaining the benefits.
Conclusion: Instagram Captions
If you're ready to escape the Instagram jail of low engagement and feeling like you are speaking to no one when you post, be sure to implement these tips and let us know how it goes! Tag us on your stories @eventcertificate.